Groundbreaking Ceremony July 15
July 15, 2014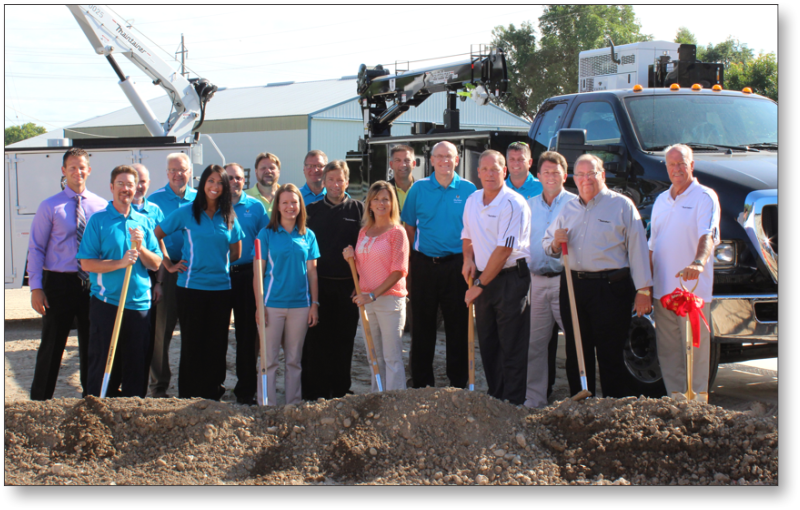 Maintainer Corporation of Iowa, Inc. hosted a groundbreaking ceremony on Tuesday to mark the beginning of expansion to their existing production facility. The ceremony, held in conjunction with the City of Sheldon and the Sheldon Chamber and Development Corporation, was held adjacent to Maintainer's current factory in Sheldon.
Amidst a beautiful sunshine-filled morning, the groundbreaking ceremony took place in front of all Maintainer employees as well as representatives from the City of Sheldon, various business leaders from area companies and organizations, and members of the media.
Sheldon Mayor Tricia Meendering spoke about the city's appreciation for the dedication Maintainer has shown to the community. "We want to thank Maintainer, the family and whole staff, for their dedication to not only putting out quality work, but also for the upcoming expansion," said Meendering. "We look at this as a commitment to Sheldon, where we put families first. We look forward to your growth, because that means growth within our city."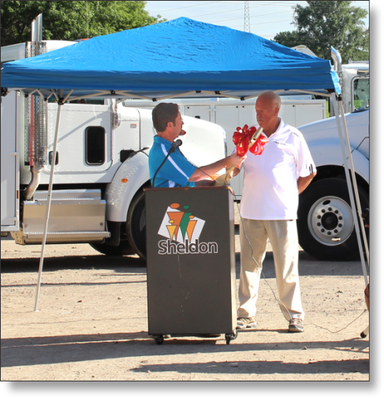 After Sheldon Chamber & Development (SCDC)President Aaron Prewitt gave kind words of support, SCDC Ambassadors representative Skip Tanner presented owner Arlan Van Wyk with a golden shovel.
Maintainer President Denny Michels next addressed the crowd. After thanking the guests for attending, Michels addressed the Maintainer employees. "The fine men and women of Maintainer make a project like this not only necessary, but they make it possible," said Michels. "I'm so proud of you and the work you do. It is a quality product – best in class.
"We're excited about the project, and we think we'll fill this [building] pretty quickly. We're already halfway to our stated goal of increased jobs. We appreciate your support. Sheldon is a great place to do business. This project should be win-win situation for us and for the city of Sheldon."
Arlan Van Wyk concluded the speaking portion by thanking all for attending. "This event speaks to the support and pride of the people in this community," said Van Wyk. "Thank you so very much. To you people that make this happen," as he pointed at the Maintainer employees, "I thank you from the bottom of my heart."
---
Maintainer announced plans in June to add 17,750 sq. ft. to the existing manufacturing facility as well as 3000 sq. ft. of new office space. The company has started a recruiting campaign and hopes to add 15 to 20 new employees as part of their growth. Maintainer officials hope to have the new structure in place by this fall so that equipment can be placed over the winter.
---