Logging Industry Takes Focus This Week - Oregon Logging Conference + NEW VIDEO
February 18, 2020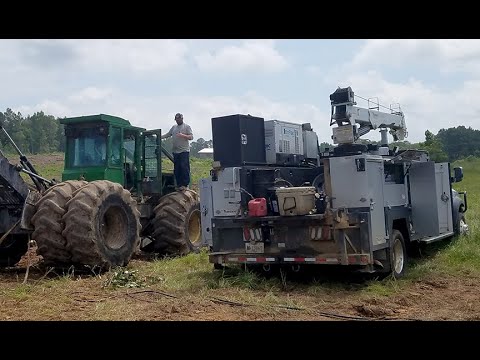 Play Video
Maintainer Corporation will be exhibiting at the Oregon Logging Conference February 20-22 in Eugene, Oregon.
Maintainer will be showing off one a new mechanics truck purchased by A-1 Logging of Yamhill, Oregon. It has a one-ton body with H7024 crane mounted on a Chevy CK56403 4x4 chassis.
You can find Maintainer in the Lane County Convention Center Exhibit Hall - Booth "A".
In the video at the top of the page, Brian C Smith Logging of Brookhaven, Mississippi, let us visit a day on the job last summer. In this video, Brian tells us how they use their Maintainer service truck to keep things running.
"Down time - it would break the bank," says Smith.
The mechanics truck in the video features a 11' body mounted on a Ram 5500 4x4 chassis. The body has one of the first Maintainer H5520 hydraulic cranes, with 5,500-pound max lift and 20' reach. The truck also has a 200-gallon diesel tank and dispensing equipment, as well as a grease system. The compartments feature five DuaLock Aluminum Drawer sets by Maintainer to help organize parts and tools. The truck also features a Miller EnPak A60HGE auxiliary power unit, which allows body functions without having to use the chassis engine.
We thank Brian for giving us some insights into his logging business, and how his reliable Maintainer keeps operations running smoothly!