Lube Truck of Tomorrow Officially Launched at ConExpo
March 7, 2017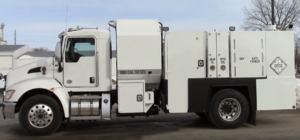 Maintainer Corporation of Iowa opened the first day of CONEXPO-CON/AGG 2017 by officially launching
 their new Lube Truck design. The Lube Truck of Tomorrow innovations were created with overall owner profitability and operator safety in mind.
"The Lube Truck of Tomorrow is here today," said Tom Wibben, Maintainer's Sales & Service Manager. "The improvements incorporated into this new lube design increase efficiency and allow for greater payload. We are confident that customers will see increased returns with their Maintainer lube truck."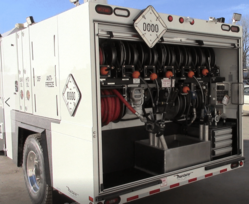 Efficiency in the new design is a result of a new operator-friendly reel compartment layout. The operator should be able to access most functions right from the reel box. The extended step bumper has been removed and product moved lower to the ground, reducing the need to climb.
Center deck access to the tanks improves safety with a wider, illuminated stairway. Serviceability and access to filters and pumps are all improved in the new design.
"The best news for customers is the weight savings in our new lube truck," said Nathan Schiermeyer, Maintainer's Engineering Manager. The goal with this truck was to have full product tank capacity and still be road legal, and we have achieved that with this new design. By using lighter, stronger materials in conjunction with more advanced finite element analysis (FEA), we have achieved a more efficient design. Operators can increase payload yet still be in compliance with road and bridge laws."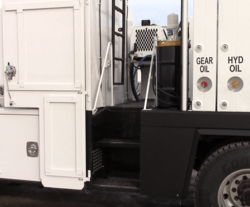 Here are just some of the NEW innovations incorporated into the Lube Truck of Tomorrow:
Efficient hydraulic oil pump kits with lightweight aluminum pumps, HP filters, and digital meters
8D flat-sided diesel tank reduced weight significantly over the traditional oval
The entire compartments under the 8D tank are completely aluminum construction
Aluminum Used Filter Bin is conveniently located at point of use and plumbed into the EVAC system
DuaLock aluminum drawer set offers easy access to tools and components in the reel compartment
DEF and anti-freeze tanks made from lighter composite material
Steel products tanks on the deck have a new spring and rubber pad mounting system
A new Boss BA440 reciprocating 40 CFM air compressor saves weight
Diesel fast fill Pressure-less quick fill system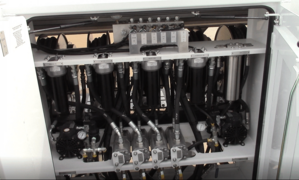 The truck at ConExpo models Maintainer's new Sig-4 truck in their Signature Series line. The Sig-4 features 1476 gallons of total tank capacity (1376 live): 1000-gallon 8D diesel, 75-gallon hydraulic oil, 75-gallon engine oil, 50-gallon ATF, 50-gallon gear oil, 55-gallon anti-freeze, 55-gallon DEF with stainless steel plumbing, 100-gallon EVAC, and 16-gallon grease drum.
 Maintainer is ready to take production order now for the new design. More product information and video will soon be available at www.maintainer.com. For now, Maintainer invites you to Booth# G3882 in the Gold Lot outside the Las Vegas Convention Center March 7-11 during ConExpo show hours to see the Lube Truck of Tomorrow that is here today!