Maintainer Announces Expansion Plans
June 4, 2014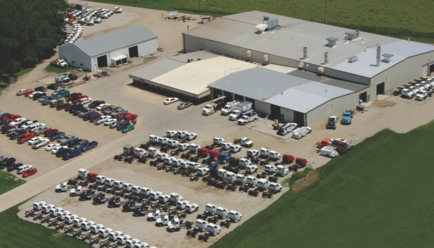 Maintainer Corporation of Iowa, Inc. has announced plans to expand the production capacity at its Sheldon manufacturing plant. Maintainer's administration announced to its employees last week that it plans to break ground this month on a plant addition that will increase factory space by 30%.
The expansion, which is expected to be fully completed by Spring 2015, will add 17,750 sq. ft. to the existing manufacturing facility. Maintainer also plans to add 3,000 sq. ft. to its office space.
"Interest in Maintainer truck bodies continues to grow," said General Manager Shelley Morris. "We need to increase capacity as soon as possible, and this expansion will give us the space to make that happen. It also allows us to upgrade our technology to help our employees work more efficiently and safely."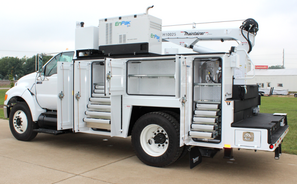 In order to make room for more inventory, Maintainer is working with the City of Sheldon and the Sheldon Chamber and Development Corporation (SCDC) to improve its grounds to the west of the existing building. The entire project cost is estimated to be in the $1.25 to $1.5 million range. Maintainer is now hiring and expects to add a minimum of 15 new jobs, but 20 or more new jobs are possible.
"We are blessed to have owners that believe in us and are willing to reinvest in the company," said Maintainer President Denny Michels. "Our team appreciates this. We also appreciate the support of the City to help make this project feasible. A project like this is a WIN for the city of Sheldon as well as a WIN for Maintainer."
"Maintainer is a vital part of our Sheldon Community and we are very excited for the proposed expansion

project", said Sheldon Community Development Director Curt Strouth. "Internal growth is pivotal for everyone and the creation of 15-20 new jobs with this expansion project is very exciting to Maintainer and the Sheldon Community.  On behalf of the City of Sheldon and the SCDC, we want to thank Maintainer for their commitment to Sheldon. We look forward to working with Denny, Shelley and his team to facilitate this current project and any future expansion projects down the road."
About Maintainer…
Maintainer Corporation of Iowa, Inc., located in the Northwest Iowa City of Sheldon, has been manufacturing high-quality, custom-built mechanics service truck bodies, lube truck bodies and cranes since 1976. You can find out more information at their website: www.maintainer.com