Maintainer Donates Service Truck to Operation BBQ Relief
April 3, 2018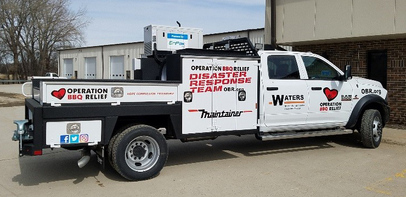 Maintainer today presented Operation BBQ Relief with keys to a brand new service truck. Along with other sponsors, the service truck was donated to help out this growing charitable organization.
Operation BBQ Relief Co-Founders Stan Hays and Will Cleaver were on hand at Sheldon to participate in an event involving all of Maintainer's Sheldon employees. During the ceremony, Maintainer President Shelley Morris handed over the keys to a 2018 Dodge Ram 5500 crew cab with Maintainer service body. The body is equipped with tool boxes, fuel pump, welder, generator, jump start, air compressor, flood lighting, and 5th wheel hitch. On a major disaster that could mean supporting 200 volunteers and 2 to 3 dozen large smoking rigs that will serve up to 55,000 meals per day.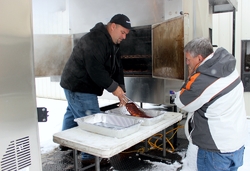 As part of the celebration, two competitive BBQ chefs who also volunteer with Operation BBQ Relief were on hand to grill meat for Maintainer employees. Patrick Banks with Waters International (Meridian, MS) and Darren Warth with Smokey D's BBQ (Des Moines, IA) served up a variety of meats. Following the meal, there was a brief presentation followed by photo opportunities with the new truck.

Operation BBQ Relief was founded in May 2011 in response to a need for relief efforts in tornado-stricken Joplin, Missouri, a community of about 50,000 residents. Volunteers from competition BBQ teams from eight states answered the need to help feed displaced families, police, fire, National Guard and emergency personnel. They served over 120,000 meals in two weeks. Food was delivered to shelters, hospitals, senior living communities and the Humane Society. Volunteers loaded food into vehicles and delivered directly to families in the impacted areas.
To date, they have served over 1.75 million meals in 24 states, using 6513 volunteers. This operation is only possible through volunteers, donations, and a desire to help those whose lives have been affected by disasters in the United States. Maintainer has joined in the mission by donating a service truck along with other sponsors. We hope through this donation that we will be able to help make a positive impact in the lives of those that are impacted by disasters. [https://operationbbqrelief.org/]
SEE TV COVERAGE BELOW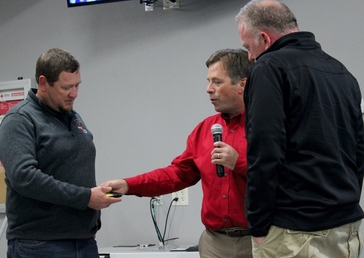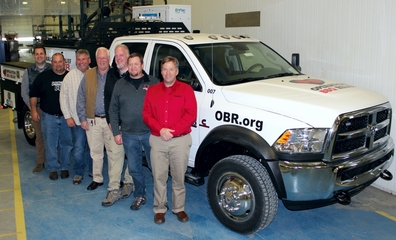 KMEG, the CBS affiliate in Sioux City, IA, was on hand to cover the event. See their coverage below: