Maintainer Expands its Electric-Hydraulic Crane Line
October 3, 2017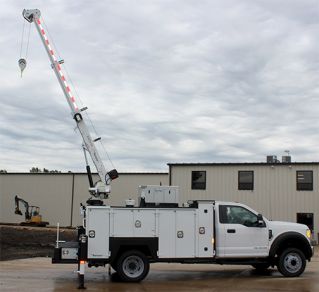 Maintainer Corporation of Iowa, Inc. is proud to announce the addition of new 16' electric-hydraulic and hydraulic cranes to its innovative line of service truck cranes. The new cranes are being unveiled in conjunction with the opening of the International Construction & Utility Equipment Exposition (ICUEE) in Louisville, KY.
The new EH3516 electric-hydraulic crane featured in the show booth has a 15,000 foot*pound crane rating and maximum lift of 3,500 pounds. The crane features a planetary winch, with hoist drum and wire rope located outside of the boom for improved operator visibility.
"This crane has more hydraulic reach than competitor models of this size," said Tom Wibben, Director of Sales and Service for Maintainer. "With the functionality and safety features incorporated into this new crane, we think this will be a great option for customers. This model should work well for the municipal, utility, and other attendees we often see at ICUEE."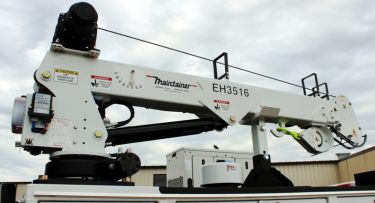 The new cranes are mounted with a universal 14.75" x 14.75" or 11.5" x 14.75" bolt pattern, which allows the crane to be added to a variety of truck bodies. The EH3516 is only available in the short-tower design and includes several popular features:
-       It has a 4 gallon-per-minute power pack for maximized crane speeds.
-       There is a self-protecting thermal shutdown built into the 12-volt DC motor.
-       A proportional wireless crane remote is standard.
-       An optional battery isolator is available to keep the crane battery charged while avoiding a drain on the chassis battery.
The new crane will also be offered in a full hydraulic version as well. The H3516 will replace the current Maintainer crane model 1115 in the product line. Both versions of the new crane offer 478 degrees of rotation and boom elevation from -13° to +78°. More specifications can be found at the Cranes page.