Maintainer Expands Lube Skid Line With New Standard Models
March 8, 2018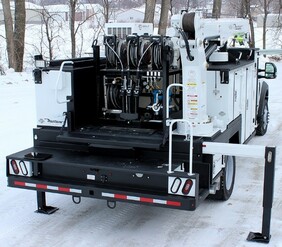 Maintainer Corporation of Iowa, Inc. introduces an expanded line of Lube Skid models in conjunction with The NTEA WORK TRUCK SHOW in Indianapolis. The Maintainer Lube Skid line now features eight standard models.
Maintainer has redesigned their Lube Skid to save weight, yet still provide premium performance.
"We are excited to offer a high-quality lube skid option at a competitive price," said Tom Wibben, Director of Sales and Service for Maintainer. "Plus, we will now have standard models in stock ready for quick order turnaround."
Maintainer's new Lube Skid is relatively low profile, measuring 49" or 55.5" in height, depending on the model chosen. It has a footprint of 42" wide and 75.5" long, or 93.5" long with the grease kit.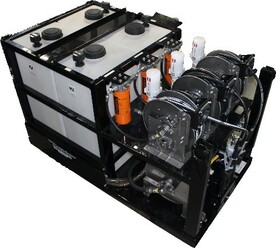 The Lube Skid features a new aluminum air manifold for pump operation. The models feature 55-gallon composite tanks, with options for 110-gallon EVAC tank or 120-lb. grease kit. The product tanks have filtered breathers. The oil systems feature 5:1 air pumps and ½" x 50' spring rewind hose reels. The 1" waste oil hose has a filter screen, 30' spring rewind reel, and a 1" air diaphragm waste oil pump. The dispenser holders also serve as a drip containment, with one central drain. Metered nozzles and in-line heavy duty filters can also be added as options. The filter heads have visual indicators to show when the element needs replacing.
The only supply needed is a single quick connect air coupler on the rear of the unit. There are forklift pockets at both ends of the Lube Skid for ease of loading/unloading plus four heavy-duty tie-down/lifting rings. The Lube Skid is primed and painted black in the standard color.
Learn more about the standard lube skid models at LUBE SKIDS.