Maintainer Expands Protective Spray Coverage
April 1, 2015
Maintainer Corporation of Iowa, Inc. is announcing a change to its standard paint and finish procedures for all service and lube bodies. Maintainer will now increase the coverage area for the popular protective spray coating.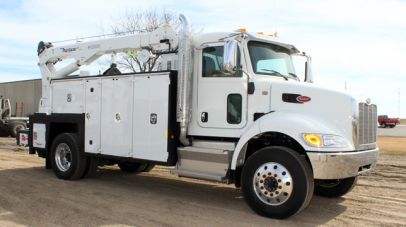 Maintainer recently added the protective spray as standard to the front of all service bodies. The new procedure will now also apply protective spray to the bottom door frames, the exterior of the wheel wells, the outer vertical outrigger tubes, and the rear bumper lower face and step surface.
"Customers continue to request more protective spray in their body designs," said Tom Wibben, Sales Manager for Maintainer. "The coating provides improved protection from rock chips, abrasion, and other abuse these trucks see in the field. It will change the finished look of the trucks for some customers, but we think customers will be satisfied with the increased life of their truck body."
A heavy-duty protective coating from PPG is the current choice on Maintainer vehicles. It has superior weather resistance, excellent UV (ultraviolet) resistance, and provides better protection than standard automotive paint.
"Many customers choose protective spray for the complete workbench bumper, center deck area, and compartment tops," said Wibben. "Those areas will remain options for the customer and not part of our new standard coverage areas."
Detailed areas of coverage are exhibited below: