Maintainer Expansion Update
December 24, 2014
Plans to Increase Capacity are 'On Track'

Maintainer Corporation of Iowa, Inc. is nearing completion on the exterior portions of its planned expansion project. Maintainer broke ground in July 2014 on a new 17,750 sq. ft. plant addition as well as another 3000 sq. ft. addition for a new Engineering wing of the office complex. With the building structure now in place, Maintainer can concentrate on installing equipment and optimizing the existing manufacturing layout during the winter months.
"Expanding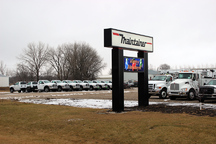 our manufacturing capacity to respond to customer demand has been the goal of our expansion project." said Maintainer General Manager Shelley Morris. "We are still on track to have our plant renovations completed in Spring 2015. We are now working on upgrading our technology and work flow to help our employees work more efficiently and safely."
The City of Sheldon and the Sheldon Chamber and Developmen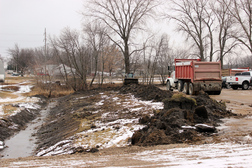 t Corporation(SCDC) assisted with ground improvements on the western portion of the property. That work has allowed Maintainer the space to increase parking for chassis and completed trucks.
This week crews worked on stabilizing the area around the creek that runs through Maintainer's property. In addition to protecting the creek, the work will allow Maintainer to route truck traffic for delivery and pickup away from the front of the building. Drivers will appreciate the extra space and will help avoid congestion for employees and visitors.
Maintainer now will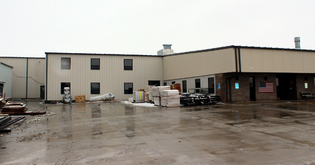 concentrate on wiring, plumbing, and equipment upgrades in the coming months. A new laser table is being put into service this week.
"Our plan is to avoid production delays as we upgrade the facilities," said Morris. "Our customers should not see much of a disruption to the expected delivery dates of the trucks they have ordered.  We think our dealers and customers will be pleased with our production capabilities in 2015."