Maintainer Presents at NWICC Manufacturing Day
October 30, 2014
Maintainer Corporation of Iowa participated in Manufacturing Day on Wednesday, October 22. The event was hosted by Northwest Iowa Community College in Sheldon.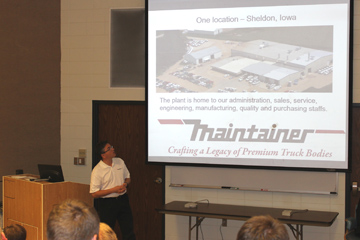 Marketing Manager Todd Karolczak and Engineering Manager Nathan Scheirmeyer gave a classroom presentation to dozens of high school and university students. Karolczak highlighted Maintainer's products and markets served, and Schiermeyer shared some insights as to the Engineering and Manufacturing processes at Maintainer's plant in Sheldon. Maintainer was one of several manufacturers in the region to participate.
Maintainer also brought over a service truck sporting a 10,000-pound capacity crane. Engineer Adam Besaw demonstrated the crane and other service truck features to the students.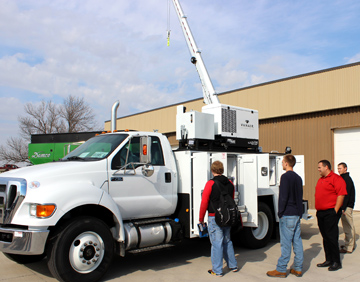 "The students asked good questions about manufacturing service trucks," said Karolczak. "They asked about materials and software used in manufacturing, as well as where we ship trucks and which trucks are most popular. We hope that the exposure to Maintainer will help them consider developing their talents. We really hope they'll consider a career crafting premium truck bodies at Maintainer some day!"
As part of the presentation, Maintainer showed a video highlighting some of the employees and jobs at Maintainer. The video can be viewed now at www.maintainerjobs.com.