Maintainer Previews Lube Truck of Tomorrow at MINExpo
September 26, 2016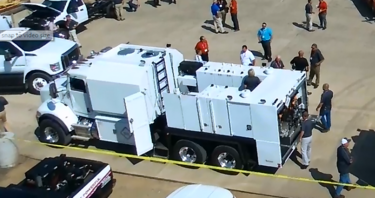 Maintainer Corporation of Iowa introduces the latest innovations in equipment maintenance this week at MINExpo International® 2016. Maintainer is giving the public a sneak peek at a major redesign of their Lube Truck bodies.
"The Lube Truck of Tomorrow is here today," said Tom Wibben, Maintainer's Sales & Service Manager. "Maintainer has been working on ideas for our customers to improve their bottom line, and we think our new lube concept will provide great results."
A key component of the Lube Truck redesign was to reduce overall weight. This allows customers to maximize payload while remaining in compliance with chassis limits and bridge laws.
"The goal wit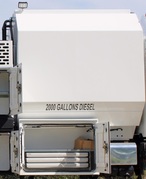 h this truck was to have full capacity and still be road legal, and we have achieved that with this new design," said Nathan Schiermeyer, Maintainer's Engineering Manager. "By using lighter, stronger materials in conjunction with more advanced finite element analysis (FEA), we have achieved a more efficient design for our customers."
A noticeable update to the design is the new 8-sided fuel tank that will replace the traditional oval found on current models.
"The new design results in a 21% weight savings in a 2000-gallon tank, for example," said Schiermeyer. "Plus we realize these trucks can be rolling billboards for our customers, and the flat design will be easier for customers to decal."
Another aspect that operators will love is easier access to the components they use all the time. Most functions are now available right at the reel box. The extended step bumper has been removed and product moved lower to the ground to reduce the need to climb.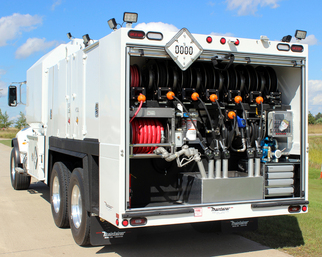 DuaLock Aluminum Drawer Sets have been added to organize tools and components. Access steps to the bed are now wider than before.
"Ergonomics and convenience – this next generation Lube Truck is designed to make the operator work more efficiently and safely," said Wibben.
Maintainer plans to begin production using the new design early in 2017. For now, Maintainer invites you to Booth# 5407 at the Las Vegas Convention Center's Central Hall to learn more about the lube truck innovations, including new technology regarding pumps, air compressor, tank fill and more! Stay tuned to www.maintainer.com as more specifications and product details are released.