Maintainer Retires Two Long-Time Employees; Looks Forward to 40-Year Celebration
December 29, 2015
Chris Gilbert & Bill Arthur retire with combined 48 years of service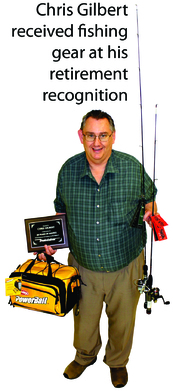 Maintainer Corporation of Iowa, Inc. is closing out a very successful year. Maintainer will be turning the page to 2016, though, without two employees with loads of experience.
Chris Gilbert, Senior Buyer, and Bill Arthur, Regional Sales Manager, were both honored late in 2015 as they move into the retirement phase of their careers.
Chris has worked near the Parts room ever since he first started at Maintainer in 1985. At that time, the bodies were built at Klatt's Custom Bodies and assembled at Maintainer before the companies merged into one. Chris worked on inventory control, purchasing, customer service, unit costing and shipping.
"My favorite part of the job has always been working with our different vendors," said Chris. "I also liked working with Engineering on incorporating new components into our manufactured products.
"Everything at Maintainer has constantly evolved and improved. It's all been great fun just watching [our employees] strive to make the best bodies out there. We have always made the best. The competition knows it and we know it."
Chris says he is looking forward to retirement but will miss all his friends at work and the vendors he got to know over the years. Chris and his wife Mary plan to travel. "We plan to visit our 11 grandchildren a lot more!"
Bill Arthur is closing out his career as Maintainer's Southeast Regional Sales Manager after 18 years. Our resident "redneck" living in Leeds, Alabama, Bill was instrumental in growing our relationships with customers in the Southeast.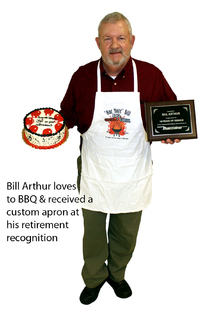 "Besides working with the crew at Maintainer corporate," said Bill, "my favorite part of the job was working with the Dealer network and the end user customers. The job was always fun!"
Bill saw many changes in the business over the years.
"Advancement in technology were the biggest changes," reflected Bill, "both in the sales quoting process and on the trucks themselves – particularly the cranes."
Bill and wife Linda also plan to travel to family and friends, once he whittles down his "Honey Do" list.
Maintainer thanks Chris & Bill for their many years of dedicated service. Looking to the future, Maintainer will continue to add new faces as their expansion continues. 2016 will also mark the 40th anniversary of the company founding, and many activities will be announced to celebrate the company history. Oh, and don't worry about losing a connection to the past with the departure of our new retirees. Chris Gilbert's daughter Christy Burrington has moved into his desk in the purchasing department. We hope to keep the family around for at least another 30 years!