Maintainer Sign Trucks Improve Highway Maintenance Efficiency
January 31, 2014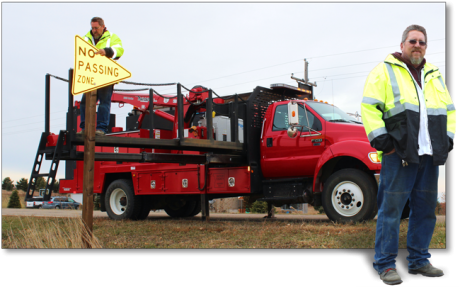 Wouldn't it be nice if you could design and buy the equipment you need to make your job easier?
For Sioux County Traffic Control Specialist Scott DeKock, he got to do just that two years ago when his northwest Iowa county highway department decided to buy a new Maintainer sign truck for their operation. DeKock is still very pleased with their purchase.
"I love the truck," said DeKock. "They let me design it so I could have whatever I need with me as I travel the county. We designed this sign truck with a one-man operation in mind. Now, I might not always have the right sign with me, but that's not the truck's fault."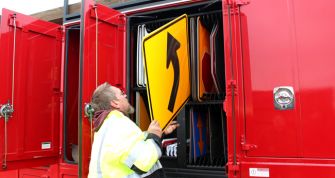 DeKock is responsible for all highway signage across the 769 squares miles of Sioux County. He replaced over 600 signs this past summer, and the job was made easier with many unique features on the Maintainer body.
"The catwalk is my favorite feature," said DeKock. "It allows much easier access to signs in a safer way. With some deep ditches, you could literally be 20 feet above the ground. But I don't have to worry about navigating ditches with the catwalk feature."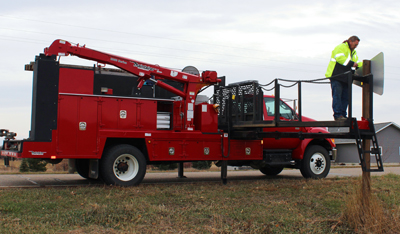 Sioux County's previous truck was also a Maintainer, built in 1986. "With rugged construction and strong doors, these Maintainer units are built to last," said DeKock.  "After 25 years of use, we were ready to upgrade to a newer model with newer features.
This sign truck sports a Maintainer Hydraulic crane with 24' reach. The truck also sports an auger attachment that can be used in conjunction with the crane to easily dig post holes. DeKock can also attach a simple pounder unit to help set those poles in the ground.
"Another nice feature we added was a Miller EnPak unit," said DeKock. "The EnPak powers the crane and catwalk so you don't have to run the big engine all the time. It shuts off after 2 minutes so you don't waste fuel."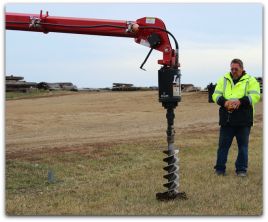 The catwalk is controlled from a tethered remote. The crane is controlled from a separate wireless remote. Maintainer engineered a lot of space into the cabinets for signs, tools and whatever else the operator needs without having to return to base until the end of the day.
"I even have a microwave," exclaimed DeKock.
Maintainer is happy when the customer is happy, and Sioux County residents should be happy with the value their tax dollars purchased. "I love this truck," re-stated DeKock.
 SEE 5 MINUTES OF THIS SIGN TRUCK IN ACTION IN THE VIDEO BELOW!