Rick Wolthuizen Recognized for 25 Years of Service
June 19, 2015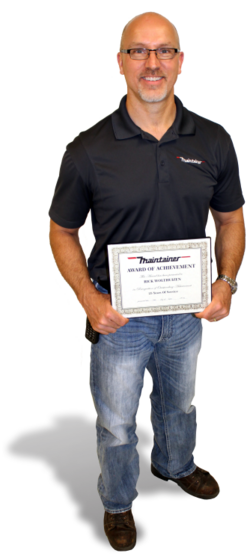 Maintainer Corporation of Iowa, Inc. recently recognized Rick Wolthuizen for his 25 years of service. Rick is currently the Manufacturing Manager and is helping to streamline production as part of Maintainer's expansion project.
"Rick is a great example of many of our employees who have made a career at Maintainer," said Shelley Morris, General Manager. "He has moved up the ranks over time, and we are proud to have Rick on our team."  
Rick's first position at Maintainer started June 21, 1991 as a welder of compartment side packs and bumpers. He moved to building Catch Basin Cranes and then to Lube Trucks when Maintainer added those to the line. Rick eventually became Welding Supervisor until he started working with the Engineering Department.
"That was the first time I had ever worked with computers," said Wolthuizen. "I eventually learned how to use the Pro E software as I transitioned into a Designer."
From there Rick advanced to Quality Assurance Technician and in 2015 was promoted to Manufacturing Manager.
"The biggest game changer over the years," Wolthuizen reflects, "was the purchase of a plasma table. That began the transformation of Maintainer from a 'blacksmith' shop to the state-of-the-art manufacturing facility that we are today. And we have continued to grow from there. Even though I've been here 25 years, I never get bored. Maintainer is always evolving the way we manufacture and work with customers."
Rick currently lives with his wife Kathleen and their 2 children in Sanborn, IA.