Senator Grassley to Visit Maintainer
August 22, 2019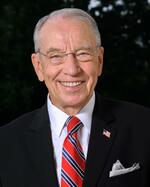 U.S. Senator Chuck Grassley plans to visit Maintainer's Sheldon plant on Tuesday, August 27.
The visit is part of Sen. Grassley's plan to visit all 99 counties in Iowa. At 8 a.m., he will get a tour of the facility, accompanied by members of the media.
Then at approximately 8:20 a.m., Grassley will hold a Question & Answer town-hall type interaction. The public is invited. We plan to hold the Q&A in a tent in front of our building at 1701 2nd Avenue.