Terri Malenke to Retire After 43 Years
April 28, 2021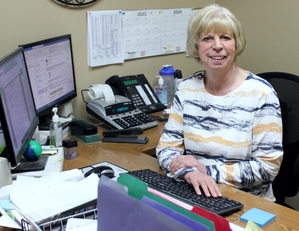 Maintainer Corporation of Iowa, Inc. held a company-wide celebration April 27 to honor Office Manager Terri Malenke. After 43 years of dedicated service to Maintainer, Terri is setting her sights on a well-deserved retirement. Her last day in the office will be Friday, April 30.
Several members of Terri's family, along with several former employees, joined the current employees as Maintainer retired Terri's employee number (#4) at the lunch-time ceremony.
Terri began her career with Maintainer in 1978 at the age of 22. She worked in the front office as a secretary doing a lot of mailings, cold calls, and answering calls. She wore many "hats" in the early days of Maintainer since there were only 10 employees total. Over the years, her position migrated into an office manager and head of accounting as the go-to person for any financial issues. She's seen many changes over the years with the addition of computers and constantly evolving software.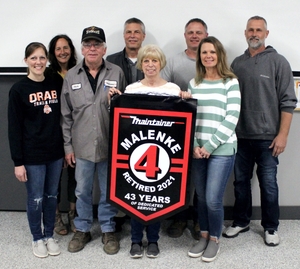 "I always enjoyed the challenges that have come along the way," said Terri, "but the biggest changes came with the large number of employees we now have. I miss not having the opportunity to know each and every one of them like I did in the early days of the company. I will miss the camaraderie of my co-workers the most."
Terri plans on spending more time with her family and friends, golfing, and just being a little bit lazy over the summer months. Maintainer has benefitted from Terri's leadership and dedication to keeping the accounting department and front office running smoothly and efficiently. She has been an integral part of Maintainer during her tenure. All of us at Maintainer will miss Terri, and we will never forget her contributions to the company. Please join us in wishing Terri all the best in her retirement!