FALL PROTECTION TIE-OFF POINT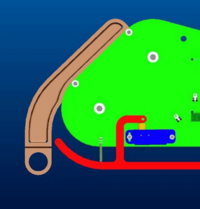 Maintainer's fall protection attachment is OSHA 1926.502 (d) compliant and allows you to develop a complete fall arrest protection system using a harness/lanyard that best suits your needs and requirements.
A single person tie-off anchorage can be permanently mounted on the sheave head for existing or new cranes and is available for models: H6520, H7024, H8524, H8530, H10025, H10030, H10034, H12025, and H14025.
Combined person and tool weight limit is 310 pounds max. Also not ethat PSHA 1926502(d)(15) requires that "anchorages used for attachment of personal fall arrest equipment shall be... capable of supporting at least 5000 pounds per employee attached." Maintainer requires the crane to be moved into the correct location above the working site, and powered down (electrically and hydraulically), prior to any employee tying to the anchorage point. The crane must at all times be in a load zone with 5000-pound capacity as shown on the load chart.
Order Item AO-03561 for the Fall Protection Attachment.
---