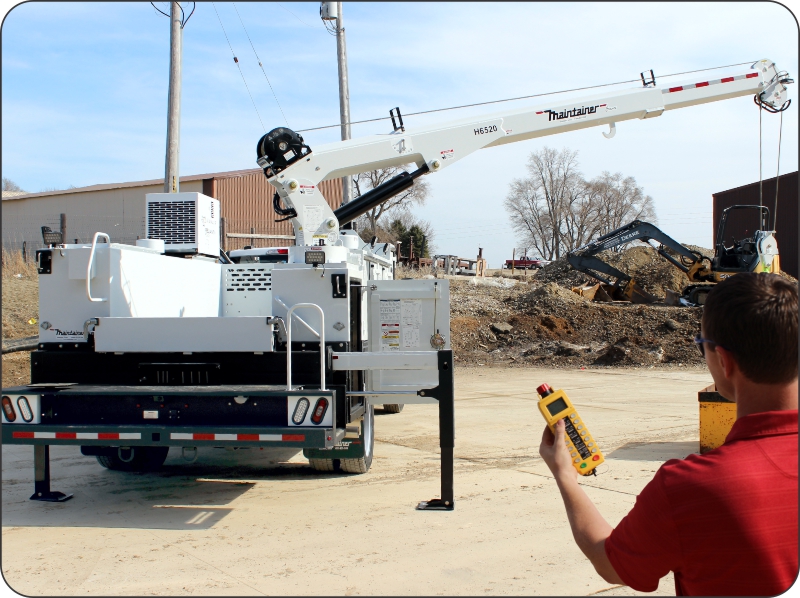 Innovations In Engineering...
ENHANCING OPERATOR SAFETY AND EFFICIENCY
Maintainer's Advanced Crane Control enhances the benefits of the wireless remote system giving the operator a visual indication of the status of the crane. (A former version was called "LMI System")
---
Advanced Crane Control 2.1
STANDARD

on all hydraulic cranes H6520 and above
Live weight display is on remote control and on the optional display screens in compartment

Automatic capacity & speed limiting in low stability lifting areas by sensing truck level and boom angle

Automatic stability monitoring reduces operator error

Reduces rotation speed under heavy load for improved operational control

Will warn the operator and stop crane rotation if necessary

Potentially eliminates the need for front outriggers on certain service bodies
---
Advanced Crane Control 2.2
OPTIONAL

on all hydraulic cranes 6500 lbs. & above - Even more enhanced Features for operators!
Automatic Stability Zone Charts - The system knows the position of the crane and will automatically reduce the maximum capacity of the crane, keeping the operator safer and more efficient!
Rotate Stow Assist - As you stow the crane, you can hold the rotate button full speed, but the crane will stop and center itself over the boom saddle. As you then boom down, the crane will slow itself as it nears the saddle.
Body Collision Prevention - You won't accidentally run your crane into your own truck body or chassis exhaust stack. The system knows these critical positions and will stop crane from rotating or booming down through these areas!
SEE THE STOW ASSIST IN ACTION IN THIS VIDEO:
SEE THE COLLISION PREVENTION IN ACTION IN THIS VIDEO:
LEARN ABOUT AUTOMATIC STABILITY CHARTS IN THIS VIDEO:
---