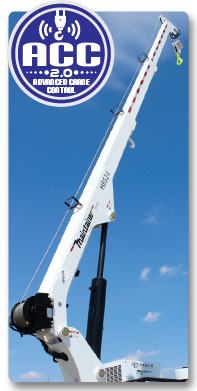 Maintainer continues to expand crane options with the H8524 telescopic crane. This crane has a lift capacity of 8,500 pounds has a hydraulic reach of 24' 6".  
The H8530 released in March 2019 helped fill the gap between our 10,000 and 7,000-pound cranes. The H8524 (released in May 2019) will allow customers to conserve more payload on a Class-6 chassis as well as some of the new 2020 commercial chassis models coming soon.
The new crane touts a 52,500 foot*pound crane rating and a boom-mounted planetary winch. It is recommended that the crane be mounted on a chassis with a minimum gross vehicle weight (GVW) of 22,000 pounds. A dual-outrigger package is available in conjunction with the H8524 for greater stability.
The H8524 also features Advanced Crane Control 2.0. The upgraded safety and performance features in ACC 2.0 include better visibility of lifting loads and error codes if instability with a lift is detected. The proportional wireless remote integrates with our new switch panel assembly using a CAN System to improve operator efficiency.
The hexagonal boom sections on Maintainer cranes are self-aligning, have improved strength to weight ratio, and have easily-serviced wear pads. Nitrided cylinder rods have improved wear and impact resistance, improved corrosion resistance, and an improved seal life. The hydraulic hoses are protected from harsh working environments. Even the crane and outrigger valves are protected under the truck body. The initial crane inspection is performed at the factory for turnkey performance – your crane is ready to go to work when your truck is delivered!