Find Our Location
Maintainer Corporation of Iowa Inc HEADQUARTERS and PRIMARY PLANT are located on the south side of Sheldon on 2nd Ave (Iowa Highway 60 Business route)
physical shipping address: 1701 2nd Ave; Sheldon IA 51201          phone 712-324-5001
Chassis Deliveries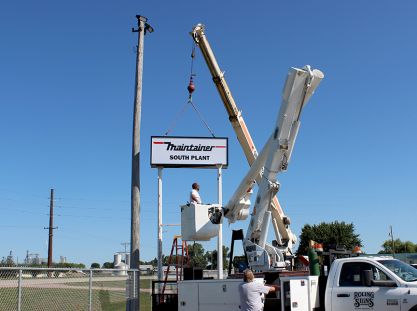 Maintainer has recently add a SOUTH PLANT for additional production, as well as chassis deliveries and chassis prep. It's located just south of our headquarters at
3011 2nd Ave; Sheldon IA 51201
Sheldon, Iowa, is located in Northwest Iowa at the crossroads of four-lane Iowa Highway 60 and U.S. Highway 18.
Worthington, MN is 40 miles northeast of Sheldon, while LeMars, IA is 34 miles to the southwest.
For the closest major airports, Maintainer is 66 miles from Sioux City, IA's airport (SUX) and 76 miles from the Sioux Falls, SD (FSD) airport.
Learn more at Sheldon's homepage by clicking the logo...