Introducing New Maintainer Bolt Bins
June 24, 2021

Maintainer Corporation of Iowa, Inc. is expanding its line of service truck accessories with the introduction of new Maintainer Bolt Bins. These strong, yet lightweight, storage units will be offered in standard and custom configurations.
"The new Maintainer Bolt Bins join our popular DuaLock Aluminum Drawers in providing customers with a variety of quality storage options," said Maintainer Marketing Manager Todd Karolczak. "We consider our unique features an Innovation in Organization, helping users work much more efficiently."
The Bolt Bins have a housing and shelves made of .090" aluminum, with bins made of composite material. The units will come in a standard 18.5" depth or optional 12.5" depth. Each standard depth bin is rated for 25 pounds and comes with three aluminum removable dividers.
Each unit is also topped by a telescoping aluminum shelf, just like the DuaLock Aluminum Drawer sets.
There are eight standard configurations in the introductory Bolt Bin lineup, but custom configurations up to 8 bins wide and 8 levels high are available initially.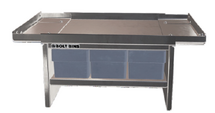 Learn more at the Maintainer Bolt Bins page.