New Service Truck Walk-Around VIDEO released
July 16, 2019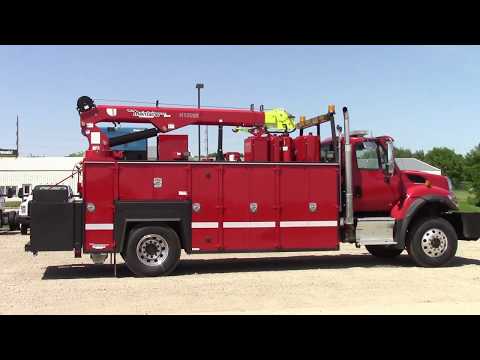 Play Video
Learn about the Maintainer Advantage!

This walk-around video takes you through many of the great features Maintainer's service bodies have to offer, like our body and cabinet construction, our Maintainer cranes, safety features, and many popular options like Advanced Crane Control, DuaLock Aluminum Drawers, our patented Pressurized Storage System.
If you saw the previous version, this video has been refreshed for 2019!
When watching this video on Maintainer's YouTube channel, you can jump to the section you want to review with the text below the video. Here is what the menu looks like...

0:23  Learn why Maintainer provides the best VALUE
0:39  Quality of the Manufacturing Process
1:10  We do refurbs as well!
1:18  COMPARTMENTS - We Create Space
1:55  DOORS made from 3/16" thick aluminum - our design differentiates us from the competition
2:45  CRANES - Maintainer offers cranes from 3500 to 14,000-lb lift capacity
3:07  Short-Tower vs Tall-Tower Cranes - we offer both!
3:42  Advanced Crane Control
4:10  Maintainer Connect - telematics to gather performance data
4:40  Wireless Remote for crane operation
5:20  Outriggers options for crane stabilization
5:48  Maintainer offers a multitude of OPTIONS & ACCESSORIES for your service truck
5:55  DuaLock Aluminum Drawers
6:24  PSS - Patented Pressurized Storage System - keeps dust & moisture out of your cabinet
6:40  Auxiliary Power Units (APU's)
6:59  Securing a load in the center deck
7:18  Air Compressor Units
7:30  Lighting options
7:39  Maintainer Work Bench Bumpers
7:49  Paint Finish
8:05  You can also choose a Combination Body with Lube functions and Crane on your Service Body
8:18  We offer eight standard lube skid configurations as well
8:28  SAFETY features - Maintainer keeps operator safety & efficiency in mind.

Maintainer
Crafting a Legacy of Premium Trucks Bodies

SUBSCRIBE to get notification on the latest videos featuring Maintainer.