Maintainer Introduces All-Aluminum Lube Bodies
March 11, 2020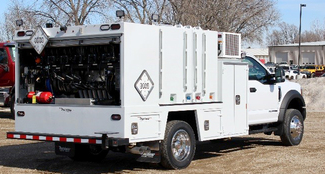 Maintainer Corporation of Iowa, Inc. is proud to announce the addition of ALL-ALUMINUM Lube Truck Bodies to its lineup of premium truck bodies. The new aluminum lube trucks are being released in conjunction with the 2020 CONEXPO-CON/AGG trade show currently in progress in Las Vegas.
"We continue to lead the industry in designing our lube trucks for safety, efficiency, and profitability for our customers," said Tom Wibben, Director of Sales & Service for Maintainer. "With the addition of all-aluminum models, customers can see additional weight savings, increased payload, and corrosion resistance."
Maintainer's All-Aluminum Lube Truck Bodies are available for chassis up to 23,500 GVW. Fully hydraulic or air pump systems are available.
Maintainer's steel lube trucks already incorporate a lot of aluminum, from aluminum tanks and doors to shelving and DuaLock drawer sets. Still, Maintainer's new All-Aluminum bodies can offer 12% weight savings over Maintainer's comparable steel body.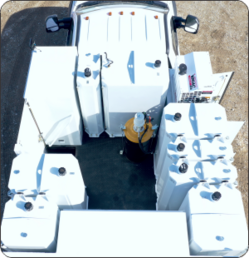 "The weight savings allows customers to choose a smaller chassis, which will save money on purchase price, registration, and insurance," says Wibben. "On top of that, customers will see increased payload. These bodies can hold 48% more product than our comparable steel bodies can. The weight savings will be even be greater when comparing to competitor's steel bodies."
The All-Aluminum Lube Trucks will feature the same great design enhancements as Maintainer's steel bodies, including 8D aluminum tank design and an operator friendly reel compartment.
Learn more at our All-Aluminum Lube Trucks page.